The Port St. Lucie Business Women invite you to join in celebrating
its Ruby Jubilee anniversary
with the purchase of a commemorative brick paver.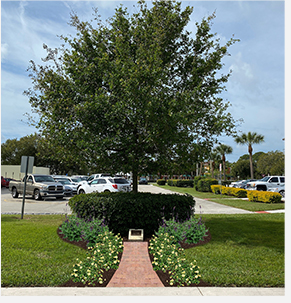 We are excited about our custom-designed brick pathway project at Port St. Lucie City Hall.

In honor of our 40th anniversary, a pathway will feature engraved bricks that extend from the sidewalk's edge to the live oak tree and monument planted five years ago.

The pathway will be an impressive finish that enhances and connects our 40th anniversary project to our 35th anniversary project-- beautifully!

Purchasing a commemorative brick offers you a unique and permanent way to celebrate a special event, honor a family member or friend, memorialize someone special or showcase your business.


All proceeds will go to the PSLBW's Scholarship awards and Community Action & Grants. Your support is greatly appreciated and will continue helping assure the futures of women attending Indian River State College and provide much-needed funding to local non-profit agencies serving women and children.

Your personalized brick becomes a lasting tribute for generations to come, one that will be seen and remembered by this community.

The Port St. Lucie Business Women is a 501 (c) (6) non-profit professional organization dedicated to promoting the interests of businesswomen and serving our community.

If you prefer to pay by check CLICK HERE to download the printable order form.

All text is case sensitive and centered automatically on the bricks. Please use the spaces provided below for your message and note that characters include letters, numbers, spaces and punctuation.
Replicas may only be ordered with purchase of full-size brick.
Port St. Lucie Business Women reserves the right to deny any brick application which it determines to be inappropriate by virtue of the stated or implied message. Purchasers have no control over the location, design, material, appearance, installation, maintenance or repair of the brick. No addresses, phone numbers or websites will be permitted on bricks.