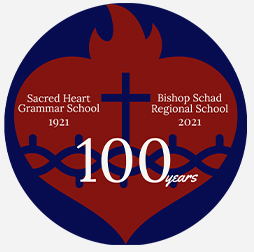 Celebrating 100 Years!

Bishop Schad School is celebrating 100 years of Catholic Education. Commemorate your memories of Sacred Heart Grammar /Bishop Schad Regional with a personalized brick. Set your name in stone for decades to come!

Remember a loved one, recognize a graduation year, honor someone special, join family or friends for a family or friend brick, businesses providing community support.

Your personalized brick will be displayed around the flagpole in the 2022-2023 school year. All proceeds will directly benefit the students of Bishop Schad School. We appreciate all the support from current families, alumni and the community. It helps us provide the students with the best education possible.

If you prefer to pay by check CLICK HERE to download the printable order form.

If you have any questions, please contact:
Karen Lipkin
856-691-4490
klipkin@bsrschool.org


All text is case sensitive and centered automatically on the bricks. Please use the spaces provided below for your message and note that characters include letters, numbers, spaces and punctuation.
Replicas may only be ordered with purchase of full-size brick.
Bishop Schad School reserves the right of refusal of any order found to be inappropriate or in violation of Bishop Schad School directives or guidelines.